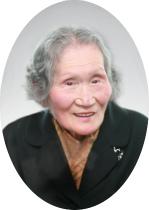 The Foundation began with a private donation from Toshimi Otsuka, a member of the family that founded the Otsuka Group. Toshimi Otsuka was born on December 24, 1922, in Naruto, Tokushima Prefecture. Raised by hard-working parents, she enjoyed a happy childhood.
In 1950, Toshimi Otsuka joined Otsuka Pharmaceutical Factory, a firm established by Busaburo Otsuka, her father. There she assumed various responsibilities ranging from clerical work to employee dormitory management. She lived simply and frugally, practicing economy wherever possible. In her later years, she expressed a wish to help society in some way and offered to donate her lifetime savings for the purpose.
The Otsuka Toshimi Scholarship Foundation was established in 2007 to provide financial assistance to students from overseas that have long supported the growth of the Otsuka Group and thereby contribute to the development of future leaders in those countries.
While serving as a director of the Foundation, Toshimi Otsuka attended the award ceremonies for scholarship recipients each year, drawing on her own life experiences over the years to talk about the joys of learning and the importance of overcoming obstacles. A gracious and modest woman of personal integrity, she died on May 3, 2011, having led an unblemished life for 88 years.
The memory of Toshimi Otsuka lives on in the Foundation's activities.